I was very kindly sent a pair of "BareFoot Kick Buddies" to test and review by the very kind Andrew at BareFoot Kick Buddy.
BareFoot Kick Buddy (BKB) are a British company who produce "BareFoot Kick Buddies" – a padded wrap for Kick and Hi-Hat pedals.
As specified on their website, the "BareFoot Kick Buddies" (BKBs) are the result of over 2 years research and development, born out of a desire to make drumming in heat comfortable and precise. After testing a wide range of materials, the company finally chose precision neoprene that offers the ultimate balance of grip, cushioning and flexibility.
The BKBs arrived in a pair. Removing them from their pack, I could immediately see the quality and workmanship that had gone into production. The pair that I received had a black neoprene base with 2 silver panels – a small one at the heel and a larger one at the front to correspond to the foot plate of the pedal. A BKB logo badge is stitched in the area between the two panels.
Opening it out, the BKB has two wings that have two large slabs of velcro that are used to secure it to the pedal.
The BKBs are easily removed or can be left on the pedal – since there's no sticky pads of any sort, removing the BKBs will not leave any residue on the foot or heel plates. They are also machine washable.
At the time of writing, the BKB is available in 3 colours – Black and Green; Black and Silver; Black and (er) Black.
Fitting the BKB could not be easier. Place the BKB on the pedal and wrap the wings under the footplate of the pedal then secure in place with the aforementioned velcro. A smaller velcro strap under the heel portion is used to secure the BKB under the heel plate.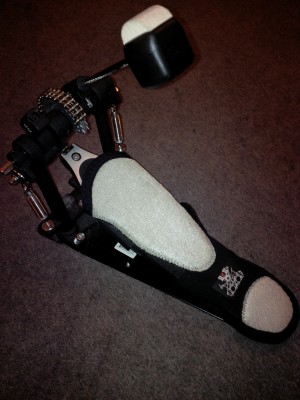 In use, the BKB is incredibly comfortable. The cushioning under the heel and footplate pads provide the right level of padding, grip and protection without compromising on the feel that is provided when playing barefoot. The Heel/Toe technique is comfortable to perform. I tried using the BKB when wearing a sock which proved equally comfortable and just as playable. Wearing a sock, I found the Slide technique easy to perform as I found that my sock would easily slide on the neoprene footplate pad.
The BareFoot Kick Buddies are pleasure to use and a product that I would happily endorse.
For more information and to purchase, please visit www.bkbproducts.com and find them on twitter at @BKB